Photo by drwMrk

It's already two months into spring but I'm still enjoying it (the good days). All the trees and fields are in full bloom and people are starting to decorate their windows with flower pots. While these beautiful strokes of color in cities and nature are only temporary, they inspire several people in different ways. An example of this are artists who want to capture this beauty in order to share it with the world.
This month I'm inspired by spring and by art inspired by spring. So I have chosen 10 beautiful abstract pieces from pinterest that embody the colors, shapes and sphere of spring. These paintings show a variety of styles and techniques that make them (in my opinion) each very unique and inspiring.
I hope you enjoy them! Each photo is linked to the artist's website, profile or shop.
Mixed media painting by
Mary Beth Shaw
"Color Cascade"
by Julie Jilek
"Later Today" by
Claire Desjardins
Flower Fest
by Corre Alice
Painting by
Laura Gurton

"Posies II"
by Karin Johannesson

"In the Mist"
by Marta Zawadzka

(Unknown)
KL32
by Yago Hortal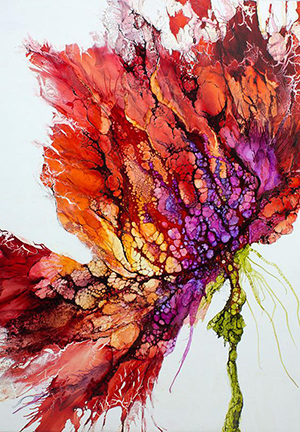 "Desire"
by Alicia Tormey

So let me know which one is your favorite! Or if you didn't like any at all.
If you enjoy abstract art, you can check my pinterest board 'Abstract Paintings' where I have collected dozens of inspiring paintings (and it continues growing each day).
Thanks for reading!
Alejandra